Today I received a tiny little package in the mail and upon opening it was greeted with what I can frankly say are some of the best 15mm models I have encountered.
Irishserb has a small but expanding range of 15mm products spanning from the post war period to the ultramodern. His inventory grows slowly, but this is due to the incredible quality each one seems to carry with it. His website disappeared for some time recently, but in the last few weeks he has relaunched a new one and I wasted no time in ordering some of his tasty hummers. He even threw in a bonus one with all the trimmings!
The first thing that hits you when taking these out of the packet is the crisp detail. Because these are made in resin they have retained extremely crisp edges and well defined crannies. The detailing is incredibly pedantic, and actually seems quite intimidating to paint. These are the naughties era Hummers with the extra armor that started to appear after the Iraq invasion.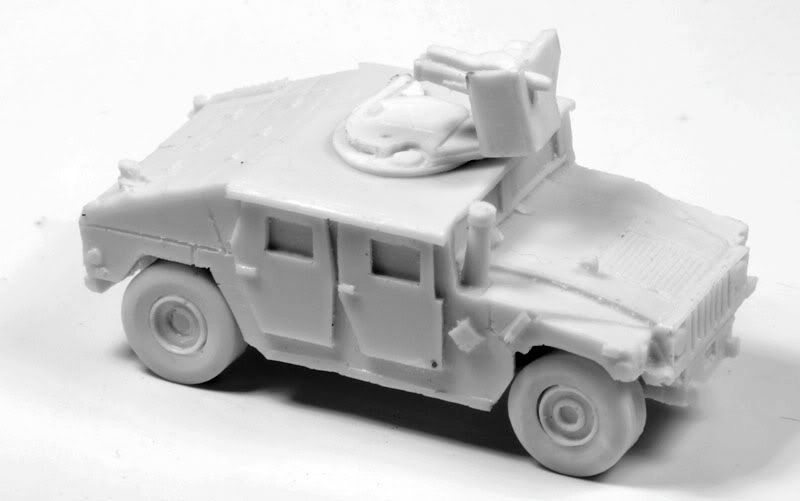 The kits come in 7 individual parts: The wheels, chassis, turret, and crew served weapon. The last two are variable, with standard or up-armored turret, and a selection of M2, Mk-19 and 240B. All parts are cast remarkably cleanly, and it is clear Brian takes great care in the process. Flash was minimal, as was air bubbles, and all in all, you should be able to get these together in a few minutes including cleanup.
pictured with a peter pig marine
Scale wise these bad boys definitely have the chunk to them, and I think this really helps in 15mm scale. They line up nicely with Old Glory/Peter Pig/QRF and will obviously dwarf quality castings gear. Proportions are 46mm long X 22mm wide X 18mm high minus the gun.
pictured next to an Old Glory/Skytrex hummer
These guys really dominate the market in terms of competition. They blow the Old Glory guys out of the water. While the Old Glory models are definitely usable, they seem thin and ill proportioned, as well as lacking detail. Unfortunately the QRF offering seem to be from one of their less well made lines. Price wise at 5 bucks a pop you really cant go past Brian's hummers even from an economical stand point.
So if you're in the market for some top notch hummers for your Ambush Alley/Force on Force, definitely give Brian a go at his site https://sites.google.com/site/irishserbsminiatures/
You'll be happy to know hes also got an upcoming m2a2 in the works which looks to be the same stellar quality he normally puts out