Lately I've been just rounding up what needs to be finished with my various projects. lots and lots of shades of green as it were :P
First up we have a finished M60A3 BLAZER Platoon made using Skytrex M48 bodies, QRF M60 turrets and lots of plasticard

Facing off against these bad boys is a group of classic T-55s


Delving back in history we now have a full platoon of Pershing heavy tanks to beef up my US armored boys (if only there were actual rules for them in FoW)
and finally heres some overall progress shots of whats going on
Germans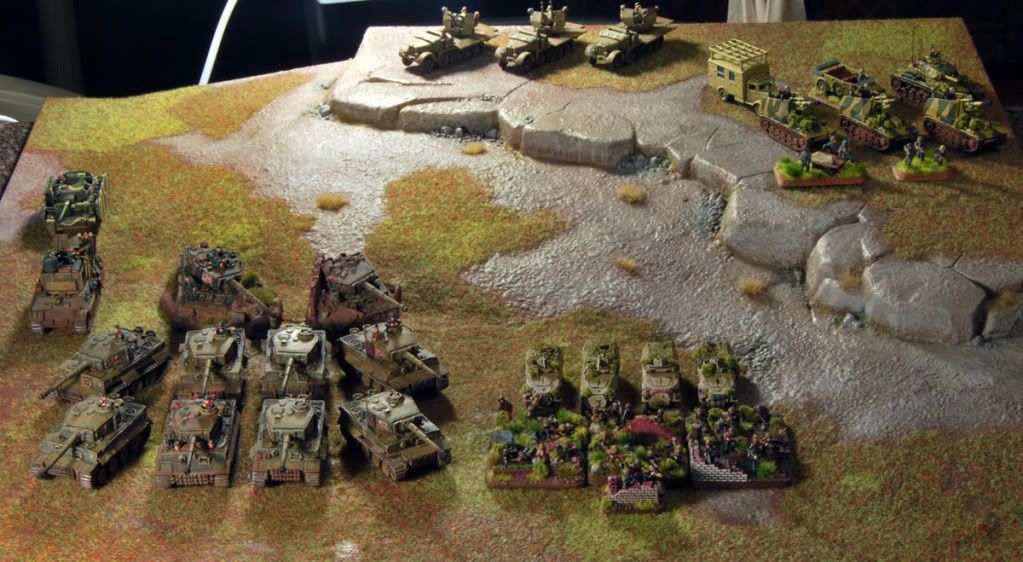 US Fulda Gap Armored forces
Their Soviet adversaries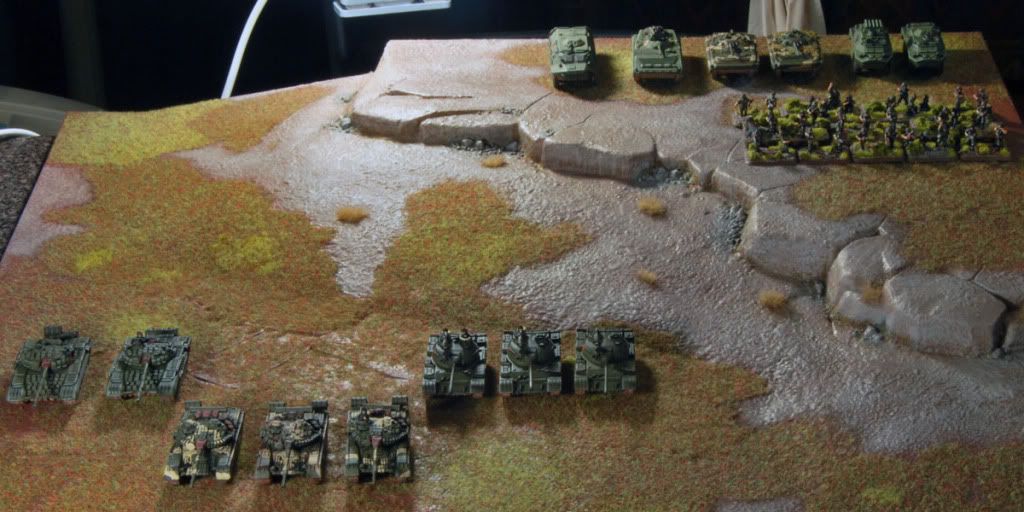 So whats up next? well I need to finish off the T-55 company by adding another 4. The T-72s need another 2 so they can pair up with the T-80s to form an understrength company. I also have a few more big expansions planned for the Soviets - 3 KA-50 attack helos to make the yanks keep their heads down, a VDV company complete with 2 MI-26s to hoon around in and of course finish the scout platoon for the T-55s.
US wise I need to finish the infantry for the bradely platoon - at this stage im not sure whether I'm going to just do another squad or break out the big toys and do a weapons squad with .50s and Dragons to help cull the enemy tanks. after that theres the matter of getting 2 more A-10s online and two Apaches to help even the odds for the beleaguered americans.
Germans have a bunch of renforcements coming down the pipeline. I've decided to go with the Totenkopf list from the river of heroes supplement so more infantry is ago - regular panzergrenadier squads as well as a HMG platoon. On top of this there will be another 4 Panzer IVs and 7 Panther Ds (I far prefer the sleeker non zimmeret look of these guys) and I am now getting together an HS-129 flight to give them further bite.
Finally my WW2 Americans need another Sherman squad to fill out all their core units. Beyond that there are Priest and M12 155MM batteries coming down the pipeline as well as a greyhound scout platoon, another armored rifle platoon and a flight of P-47 Razorbacks for CAS
So as you can tell , much ahead :)