I recently finished my thesis, and therefor my whole degree, hooray. In celebration I took to painting again this week and whipped up a few odds and sods.
Firstly I began with stripping my AAVs, as I was never happy with them. Given that they are MEU armor, I felt that leaving them in a fresh-off-the-boat woodland cam would be appropriate, and add some flavour. Rather than airbrush the camo, I decided to simply 'hard edge' it, as it allows it to stick out more, and at this scale that is important with a dark basecoat of NATO green.


MEU Abrams

Next up I painted some Saudi armor. We've often found running games between USMC and Middle Eastern forces leaves a proffesionalism disparity between the two sides that causes conflicts to be too one sided (suprise suprise). As a result I decided with my background that painting up some Saudi units would be a pretty cool answer to this problem, since the RSAF have a pretty poor training record, leading to some interesting exchanges. Also, Saudi armor can pretty much double for US army gear, given their love of the old 'made in the USA' stamp.

On that deserty note I also painted up my first M1A2 TUSK for the stryker unit I have lined up for the future.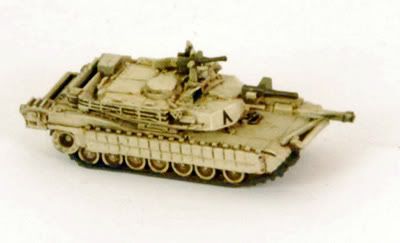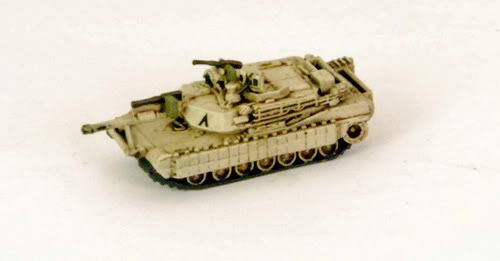 I was never happy with the helos I painted last month, so I decided to repaint the MI-24 and use some of Dom's Iranian roundrel decals. The end result was more cartoony, but I am much happier with it, as I feel it really 'pops' in this scale.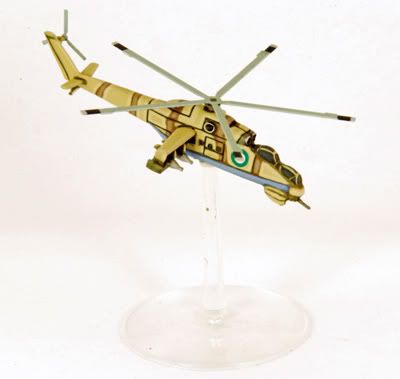 Finally, I also did my first tester Chinese armor. I plan on making a decent-sized PLZ force for operations in Central Asia. As the PLA doesn't appear to have a desert camo for their vehicles I decided to make my own scheme using a mix of Vallejo Model Air Sand and Tamiya buff. The end result is a sort of greenish tan that I think suits them pretty well. The stars also give them some character. I'm looking forward to the type-99 release next year from GHQ, should give them a bit more staying power against the Abrams.