I picked up an old Esci kit of a T-62m off ebay for cheap and had a crack at it.
This kit really showed it age and needed a lot of work in terms of proper tooling. Even then I'm not sure its particularly accurate. All the images of the M model T-62 I've found have had upgraded bra armor on the front of the turret; a rectangular range finder over the main gun; plus a few other esoteric features that seem absent on this one. Another major issue is the shape of the turret itself with a large shot trap underneath the front area. This may have been a feature on the Czech models, I'm really not certain, but all images I've seen of the T-62 turret have it being the same semi-spherical shape of its predecessor, the T-55.
The major fixage was the material sheath around the base of the 115 gun needed some major work with green stuff. The kit also had the strange distinction of having no guiding teeth for the tracks, so you literally just had to stick them on and use the old mk1 eyeball for alignment. At least they weren't rubber!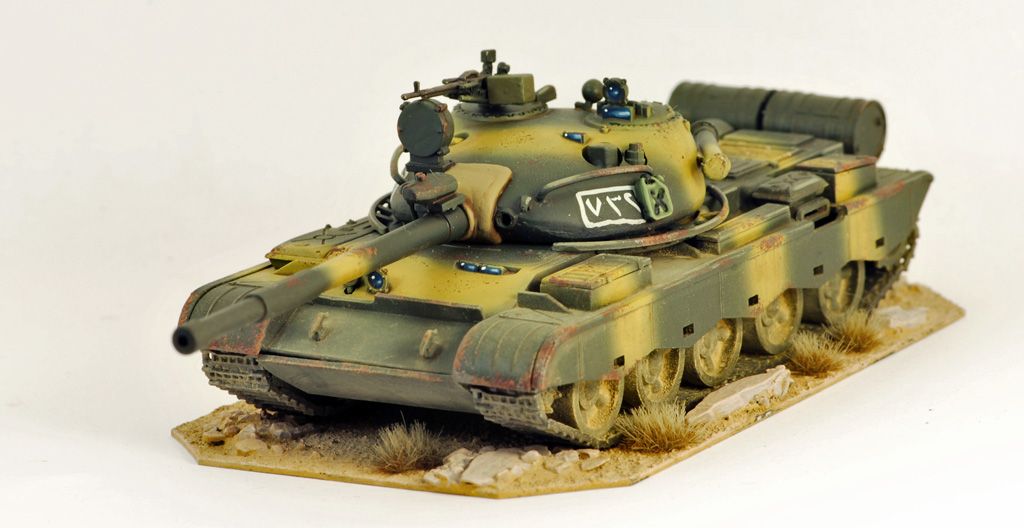 Design and building gripes aside, however, this was a pretty decent kit to put together. Minimal flash and no warpage left a refreshing taste in my mouth after my experience with ACE and various other Eastern European kit manufacturers. Now if only someone would put out a 62MV kit with reactive armor goodness.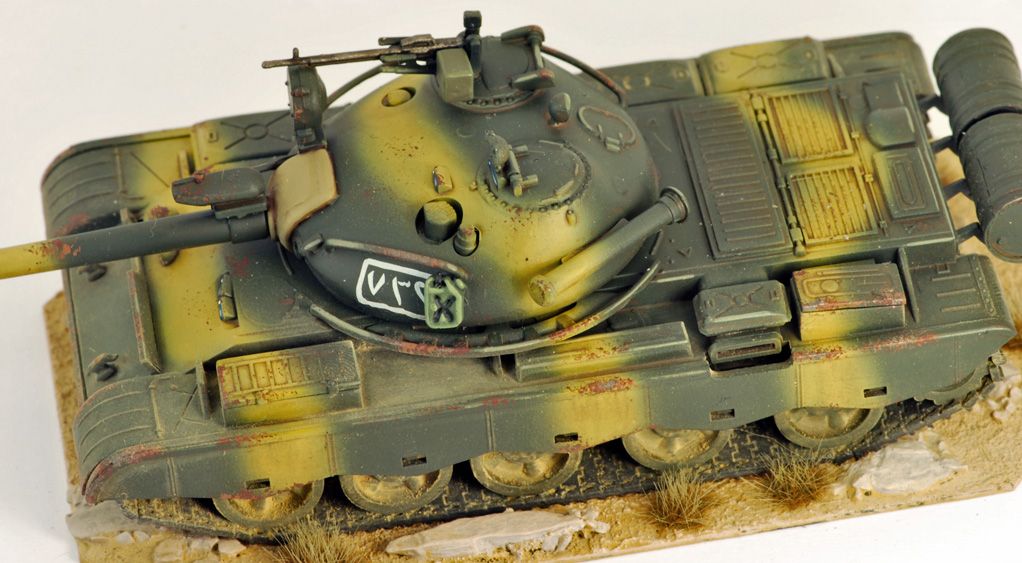 I decided to go a bit different in terms of scheme this time around. With all the mess in Syria at the moment I went with a scheme common in that country consisting of dark Russian green disrupted with bright yellow stripes. A tad gawdy, but effective and striking in contrast.
I've always had a soft spot for the T-62. It was the bastard child of Soviet industry: never quite proving itself over its predecessor and quickly being usurped by the T-64 and T-72. Still, it deployed the first smoothbore gun in history and had an idiomatic aesthetic throwback to the heavy tanks of WW2, with its elongated hull and forward-placed turret.
I also threw together a couple SandS technicals just for fun.
The great thing about technicals is there is no standardized approach one needs to take in their construction. Anything goes, and it allows the artist free reign in what they want to do.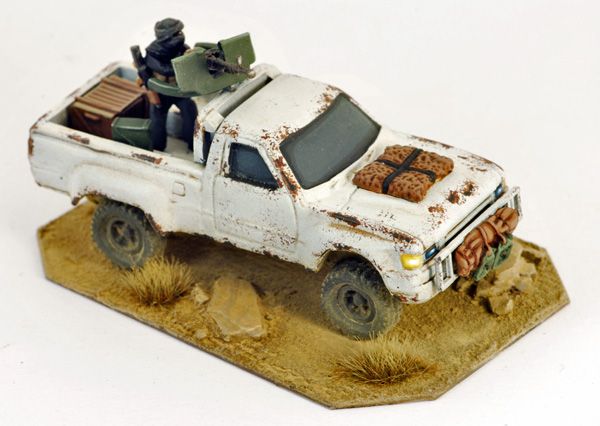 In this case I decided to take the 2-door cab hilux and add an armored dushka. for a bit of extra fun I chucked on a pintel ring to give the gunner a bit more flexibility. No doubt salvaged from the burning wreck of some decades-old Soviet armor.
The crew I decided to keep as racially ambiguous as possible so I can plug the vehicle into as many conflict zones as I can. Regardless, they aren't the most survivable units on any battlefield, but they do add a bit of whackyness and character.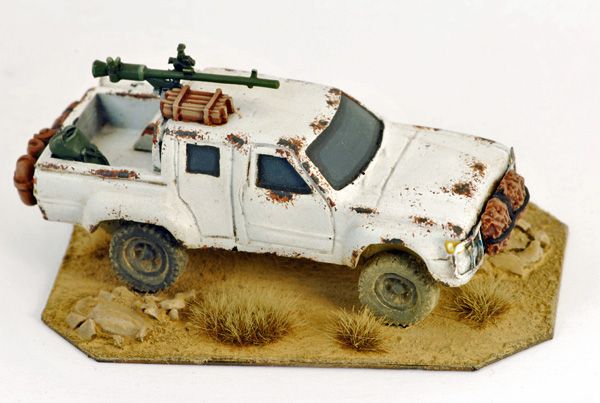 I also gave the insurgents a bit of anti-armor firepower with this 4-door cab mounting a Soviet SPG-9 recoiless rifle.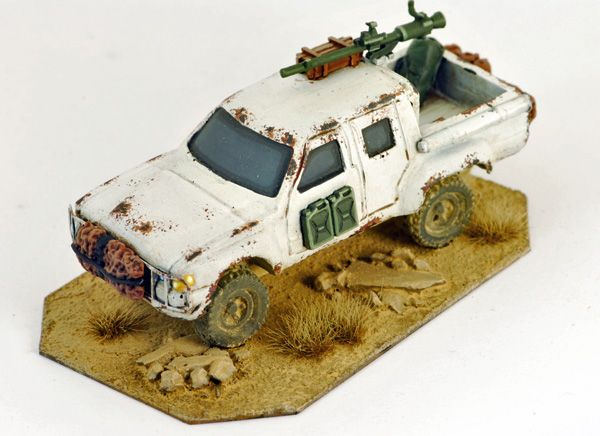 The white was fun to weather and relatively simple to detail using my standard methods, it really shows off the rust-chip effect.
And heres a group shot of the finished guys