With such a wide array of producers in the 20mm modern market, a question often posed is "who is the best?" Such a query, I feel, misses the point. The reality is that there are a number of fantastic producers out there, and that, as with all art, beauty is in the eye of the beholder. In this post I will try to give a brief rundown of the various producers I have had exposure to, with a pros and cons list.
Elhiem
Elhiem figures
is what many in the community consider the 'heavy hitter' of producers. Matt has skillfully grown his business over the past few years, to the point that his brand is now synonymous with modern wargaming.

The Elhiem range is extensive, and covers the Cold War period right through to contemporary times. Matt's projects have included Gulf War One, Somalia, the entire US-Afghan conflict, modern France, and many, many more. Personally, I have used his West-German range to represent modern Iranian forces and am currently using a range of his modern US troops to build a rag-tag USMC force.
Proportions on Elhiem figures are aimed at realism, and there are plenty of tall, lanky fellows (and a few fellettes) to fill out your ranks. Outside of the occasional miscast, mould errors are minimal, and flash is a relative unknown. Matt has taken great care to correctly match the uniforms and equipment on his sculpts (a saga you can follow in real time over on the Guild forum), although this is not a feature I worry about to any real degree.
With its links to Ambush Alley games, for many of us, Elhiem will be our introductory producer in the realms of moderns. In this regard, we are really getting spoiled.
Under Fire Miniatures

In terms of sheer quality
Under Fire Miniatures
offers perhaps the best quality sculpts on the market in my view.
Will's Russians are sublime, and the recent Chechen insurgents he has released show no signs of diminishing this level of quality.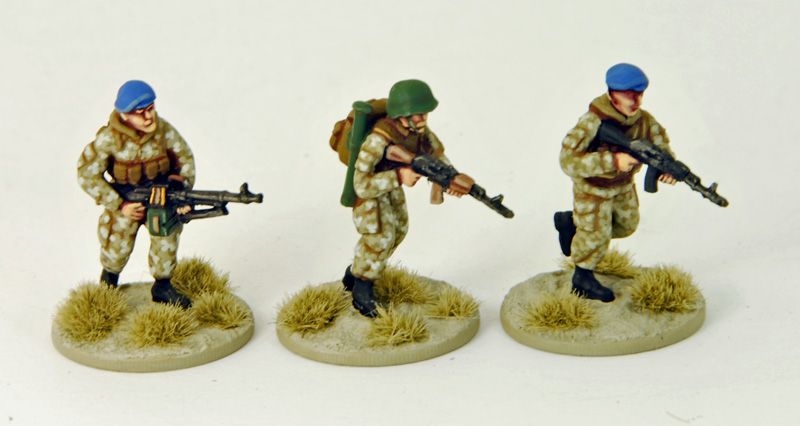 UFM covers a limited range of conflicts, including Russia's Chechen wars, Bush conflicts in Africa, and British forces in Afghanistan. The range is slowly growing. If one criticism can be made against the range, its that the packages often feel a bit arbitrary in composition. In many packs there is a distinct lack of riflemen, and you are left with an excess of RPGs, machineguns, and other odd individuals like mine-sweepers. Little consideration seems to have been given to balancing fireteams for wargaming.
UFM's minis scale very close to Elhiems', and I use the two ranges interchangeably. I am extremely excited to see what Will puts out next!
VEPA Miniatures
left to right: VEPA, VEPA, Elhiem, Elhiem, VEPA, Wee Friends, Elhiem, Wee Friends
VEPA
is a newcomer to the moderns range. I have a distinct impression that Jordi has used the same sculptor as Will at UFM, as both ranges have a very similar aesthetic terms of scale, pose, equipment and style.
VEPA currently has a limited range, covering early-mid 2000s US and 1980s Lebanon. Modern Russians are said to be in the near future, and I am greatly looking forward to seeing new figures to complement UFM's range in this department.
As with UFM, these scale very well alongside Elhiem.
Liberation Miniatures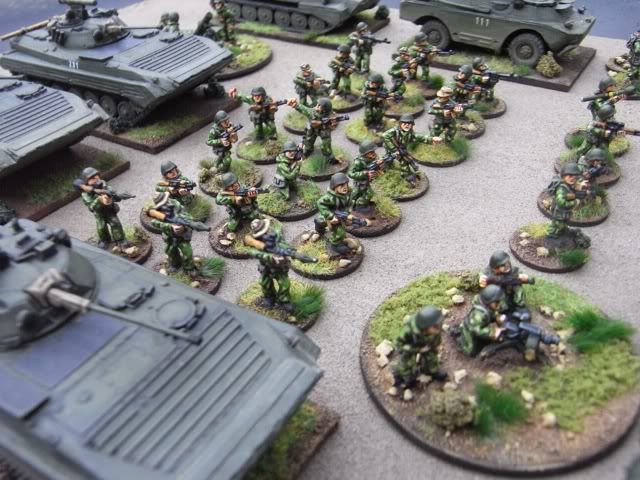 Andy's stunning Liberation VDV/Russians. Used without permission.
Rolf over at
Liberation miniatures
is old school. With perhaps the oldest and largest metal moderns range on the market, there is little disputing that if you want to wargame a 20th century conflict, Rolf can hook you up.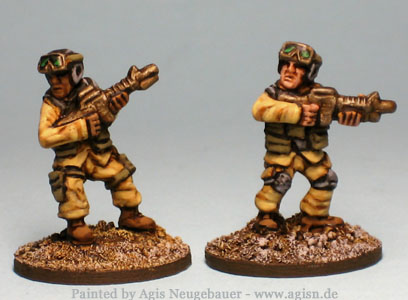 US special forces, expertly painted by Agis. Used without permission.
With an immense range to back him, Rolf's smaller, heroic scale is of little concern to those wishing to stick with him as a single supplier. Unfortunately, Lib minis don't scale well with the other ranges in this post and need to be used exclusively, or else look like burly midgets next to their contemporaries.
Russian Spetsnaz, skillfully taken on by Piers. Used without permission.

Liberation also has the added advantage of having its own range of vehicles, which can make outfitting an entire army very easy to do.
Ordering Lib miniatures can seem a bit idiomatic at times, but I highly recommend that your persevere; the payoff is worth it!
----
Well thats about it with my experience of 20mm ranges. Apart from these I have dabbled with Orion's 1/72 range of plastics (not impressed) and Wee-friends limited metal moderns (high quality, but very limited). All the ranges I have dealt with in large quantities have been very impressive, and I recommend all readers to take their time in assessing their preferred aesthetic, and just what period/area they wish to game before making that big commitment!